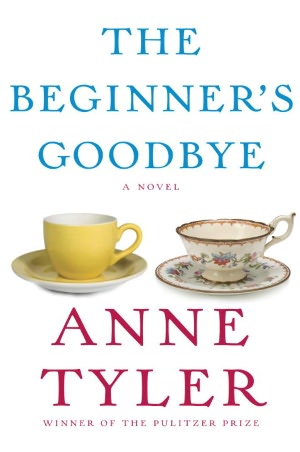 I would guess that most readers have read at least one Anne Tyler book in their lives-- even if in school. My introduction to her books was in college, when I had to read Dinner at the Homesick Restaurant for an English paper. From there, my Anne Tyler-athon took off. I don't know what is addicting about her books. I can't really explain it. You just know if you read it.
The Accidental Tourist, of course, was made into a movie. Breathing Lessons, Saint Maybe, and Ladder of Years are a few other favorites.
It has been years since I've read any of her books, and I thought I had moved on. Then I saw she had a new book out called The Beginner's Goodbye and it was only 198 pages! I only mention this because I have a huge pile of books to be read, and a book under 200 pages, well, yes I could handle it. I was also curious to see how a book of such length would be good-- because I knew it would be.
I should have known it would be amazing.
Once again, Tyler creates the most intriguing characters, in the most interesting situations. Aaron is a middle-aged man who loses his wife unexpectedly and tragically. He works in a publishing business that produces "how-to" books, and this is his own story of coping with a loss. His deceased wife keeps reappearing to him, which complicates things. He can't seem to figure out why others don't want to react to her presence. When she speaks to him, he begins to put the pieces back together and can eventually move on with his life. He has a host of friends, a few family members and co-workers who surround him with support and try to help him the best way they can. However, Aaron responds as many would who have suffered a loss-- he doesn't want them to help, he wants to be left alone, and he is sick of all the meals piling up, which he can never eat. There are some real emotions to be felt, and yet it is not a depressing book on death, despite what it may seem at first glance.

The humor and little details Tyler packs in keep the book flowing along so well, it is hard to find a place to stop. If you have never read an Anne Tyler book, I would highly recommend this one. At 198 pages, you can't go wrong. At the most, you will be in awe at this writing and slightly envious (if you're a writer) that she could get away with such a short novel. But if you're a reader, you will appreciate it from beginning to end, and probably thank her for putting out another treasure.