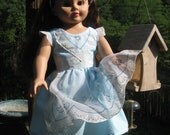 Made with a vintage hankie
Today we have a different kind of story: a story of stitches. For this post, I wanted to feature my mom, Barb Leatherman, and her Etsy shop, Second Story Stitches.
The story begins when my daughter received her first
American Girl
doll, which is an 18" doll. We chose a doll that looks very much like Allie, down to the same colored glasses. Since she spends a lot of time with her Gram, we knew they both would need a doll. So Gram also received her first 18" doll at Christmas! Thus the vision for creating her own clothing and accessories was born.
Barb in her sewing room, doing what she loves!
In the doll world, 18" dolls have been made by other companies, so if the American Girl is not appealing, there are other options! The brunette doll shown here is Barb's doll, which is a Madame Alexander. Also, the AG and other lines often feature BOOKS that come with the dolls, so you can sit and READ with your girl and her doll!