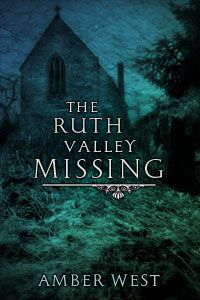 Just like this book, I have gone missing from this blog. But I've hopped back in to recommend a fun thriller for your summer reading.
I came across this book when I was looking for ebooks to download one night. It's still 99 cents, so go snatch it up while you can!
Here's the blurb (and yes, the heroine's name is Jameson. . .Interesting!):
Jameson Quinn is sick of trying to find herself in the big city. After a gallery opening ends in a trip to the ER and an argument with her self-involved boyfriend, she decides to take off for the peace and quiet of a small town — Ruth Valley. The small town has everything Brooklyn lacked: simple people, peaceful surroundings, and a feeling of safety. Jameson even finds the perfect house to rent from the town's most eligible bachelor, Sheriff Jack. Life is finally headed in a promising direction. But something isn't right. A young man is mysteriously injured, then disappears — and Jameson finds he isn't the only person to suddenly vanish. The suspicious behavior of an abrasive nun and a creepy priest set her off on an investigation of what's really happening. Will she figure out the secrets of Ruth Valley before she's the next to go missing?
Here's what I liked:
There was nothing distracting about the writing.
The story kept me guessing until the end, although there were enough hints to make it satisfying.
The witty banter that goes on between Jameson and the "creepy priest" is great.
In fact, there is quite a bit of humor in the writing, which of course, I love.
Another strong, law-enforcing main character, Sheriff Jack.
I really couldn't put it down at night-- a hallmark of a great book, right?
It was not as dark as this cover makes it look, but it was just eerie enough to keep you reading.
For those who like a lighter romance, this is the book for you. It was definitely a side-plot, and there is nothing here that will make you cringe or hide it from your grandma. Not to spoil anything, but I liked how it all turned out!
You can find Amber West, the author, at her site www.withoutsushi.com or on Twitter (@amberwest).
I'll give away two digital copies in a random drawing
.
Readers, tell me: What's been the best thing about your summer so far?